Acetaminophen Contraindications & Interactions
65% of consumers do not consider the other OTC medicines they are currently taking when choosing an OTC pain reliever1
Your counsel can help patients avoid harmful side effects
Your patients may not realize their health conditions and medications they are taking (both OTC and prescription) could affect their choice and use of OTC pain relievers.

Below is a list of potential drug interactions and key comorbidities to consider before recommending acetaminophen. It is not a substitute for the full OTC Drug Facts label. Patients should always read and follow the product label for additional product information.
1. Coexisting medical conditions to consider before recommending acetaminophen
LIVER DISEASE OR LIVER CIRRHOSIS
When not used as directed, acetaminophen can increase the risk of hepatotoxicity in patients with liver dysfunction.
2. Concomitant medications and potential acetaminophen interactions
OTHER ACETAMINOPHEN-CONTAINING MEDICINES
More than 500 OTC and prescription medicines contain acetaminophen.

Taking more than one medicine containing acetaminophen at a time can increase the chance of taking too much (more than 4,000 mg in 24 hours), which can lead to severe liver damage.

Remind patients to check the ingredients in all of their medicines and take ONLY 1 medicine containing acetaminophen at a time to avoid acetaminophen interactions.
WARFARIN
Acetaminophen may increase the anticoagulant effect of warfarin.
3. Other considerations
DO NOT USE
With any other drug containing acetaminophen (prescription or nonprescription). If you are not sure whether a drug contains acetaminophen, ask a doctor or pharmacist.

If you are allergic to acetaminophen or any of the inactive ingredients in this product.
ALCOHOL USE
If patients consume three or more alcoholic beverages every day while taking acetaminophen, severe liver damage can occur.
ACETAMINOPHEN INDICATIONS
Like other OTC pain relievers, acetaminophen temporarily relieves minor aches and pains due to headache, backache, the common cold, minor pain of arthritis, toothache, premenstrual and menstrual cramps, and muscular aches, and temporarily reduces fever.
Get downloadable patient counseling tools
TEACH · REMIND · REASSURE
Patient counsel on OTC pain relievers
TEACH
Your patients may accidentally exceed the recommended dose by taking more than one acetaminophen-containing product at a time, not realizing the products contain the same ingredient.

Some patients exceed safe doses by not reading the dosing directions.

Taking more acetaminophen than directed (more than 4,000 mg in 24 hours) may lead to liver damage.
REMIND
Check the active ingredients in all medicines they take. Acetaminophen is in more than 500 OTC and prescription medicines (for example: Excedrin®, Alka-Seltzer Plus®, Vicodin®, Fioricet®).

Take ONLY 1 medicine that contains acetaminophen at a time.

Be especially cautious during cold and flu season, because cold/flu products and sleep aids often contain acetaminophen.

If they're not sure which pain reliever to choose or how to use it, consult you or another healthcare professional first.
REASSURE
When taken as directed, acetaminophen can provide safe, effective pain relief.

Choosing an OTC pain reliever carefully—and using it as directed—is important to their health.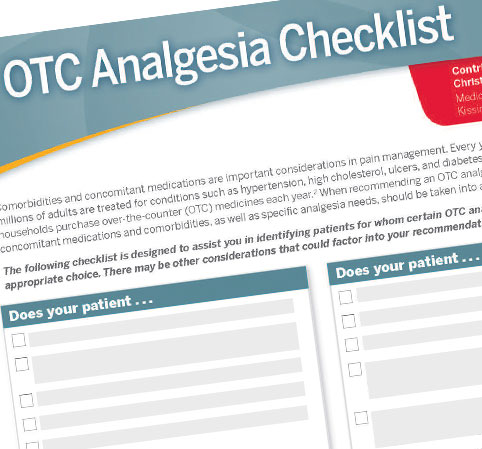 Get a checklist on patient health factors that may affect your recommendations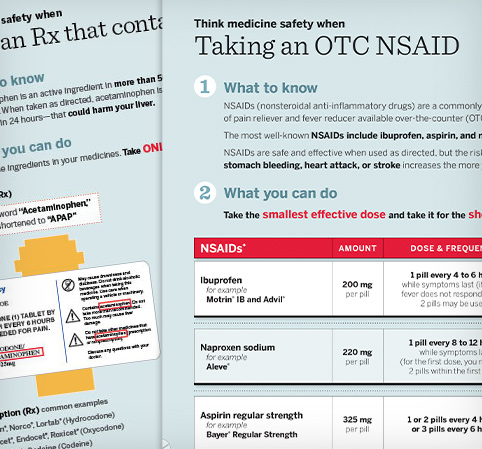 Share free handouts with patients to help reinforce your recommendation
Reference: 1. U.S. Pain Foundation. One in five Americans do not consider any key safety factors when choosing over-the-counter pain relievers [press release]. Fort Washington, Pa: PRNewswire/USNewswire. August 29, 2016.